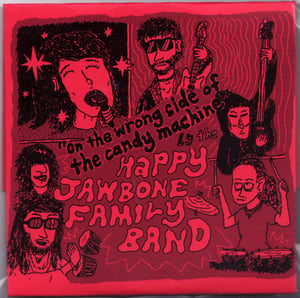 $

5.00 - On Sale
I'm actually pretty disappointed that the most I could do for this album was to release it in CD-R format when it really deserves so much more. Still, Brattleboro's (by way of Colorado) Happy Jawbone Family Band has made one of the most creative and exciting pop records I have heard in years, with 40 songs and over an hour of music that will capture your heart, feed it LSD, dance to records with it all night, then tuck it in with a kiss as the sun rises. For fans of the Bonzo Dog Doo-Dah Band, Maher Shalal Hash Baz, the Beatles, music, etc. Discs come wrapped in cardstock in a hand-numbered edition of 100, sealed in poly bags with a lollipop! Get them tambourines in tune, babay...
Watch the music video for the hit single off this album: "Fresh Gash".
NOTE: Due to the summer heat and my own delinquency, a large portion of the lollipops packaged with this CD melted. Consequently, all further outgoing copies will not include candy, and will only have polybags while supplies last. I gurantee that you will still get a quality, undamaged product, and the price has also been reduced by a dollar to reflect this boo-boo. That's what I get for trying to be cute...